Weather Related Emergency Closings
---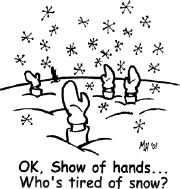 There are times when it is necessary to cancel school, dismiss school early or have a late school start due to poor weather conditions. These changes are announced on local radio, television stations and on our website.
During the winter months, the weather should be a signal to listen to these stations for changes that can occur. When we dismiss school early we must follow your child's normal bus schedule for that particular day, unless you have notified us otherwise.
When we cancel afternoon Kindergarten, we make every attempt to reach the student's home or babysitter by phone.
Please be aware, if conditions worsen, a delayed start may be changed to a no school day announcement. The final decision will be announced by 6:30 am. If any parent or guardian disagrees with the decision to have school, please keep your child home and send a note the next day stating this to the teacher or principal.
Please consult your child's school handbook for each school's individual early release procedure. This is the procedure that will be followed each time we are forced to close schools early due to weather and other emergencies. Please do not call the schools on these days for information as this overburdens the office staff and phone lines.
Your child will be dropped off at the address indicated on your child's emergency card for early release days.
School Hours for Early Release Due to Storms:

GHS

11:00 am

GMS

11:10 am

Village

12:00 am

Narragansett

12:00 pm

Great Falls

12:00 pm